The meaning of symbols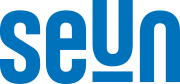 The SEUN Steel Company`s symbol mark is "SEUN" that is founded from minuscule of World Mark. It represent friendship and the power of technology as the customer service enterprise in modern style. Each figure shows a marked individuality at the same time it gives a sense of stability in composition. We would like to show our straightforward and trustworthy of the company spirit.
On the other hands, the reason why alphabet "U" is protruded is not only the correctness of pronouncing "SE" and "UN" but also the service spirit of respecting "You" and the support of society which is the enterprising spirit. The symbol mark`s color tone is blue which is symbolized in brightness and clearness. Also, it stands for a progressive spirit and growth will of the future.
Logo
Pantone 2945C
Signature(Korean)

Color
Main Color

Blue

Pantone

2945C

Process

C100+M60

Web

#0071bb
Pantone 3005C

Pantone 423C

Pantone 425C

Pantone 288C

Pantone 877C

Pantone 872C